Become an affiliate and learn about the benefits of music affiliate programs.
Become an affiliate and enjoy the many benefits of our music affiliate program.
Join us today and turn your love for music into a rewarding venture!
---
How to become an affiliate:
Receive your affiliate link
You will be emailed a unique URL to share with your audience. This URL will be used to attribute any transactions to your account. Custom URLs are available by request.
Share and promote our music affiliate program to your audiences
Join us in spreading the joy of online music lessons while boosting your income!
Share your unique music affiliate program link and let your audience know why you love Hoffman Academy.
Make sure your affiliate program link is highly visible and easily clickable.
Promote your music affiliate program link to all your digital properties, including websites, social media accounts, and email lists.
Music affiliate program payout details
Earn a 20% recurring commission from all sales through your unique affiliate link.
You receive a commission from all users who subscribe to Premium within one year of signing up for a new account using your affiliate link. You'll earn a recurring commission each time a user's subscription renews for the first year. Our program offers a longer sign-up period than most affiliate programs.
Payout minimum
Payouts will happen automatically once you've earned a minimum of $20. To allow time for possible refunds, your payout will occur 45 days after a purchase.
Customer Incentives
We'll provide you with a discount code that you can share with your users to incentivize more purchases. Unique discount codes are available by request.
Who should join this music affiliate program from Hoffman Academy?
Our affiliate program is perfect for anyone who has a Premium membership and supports our mission of bringing music into homes around the world. We want to work with those who are excited about sharing a complete musical education with everyone, everywhere.
Our music affiliate program is ideal for:
Music Educators and Schools
If you're a music teacher, you can use the Premium membership materials to support your existing curriculum. You can earn extra income by referring your students to Premium.
Teachers and Homeschool Parents
Hoffman Academy Premium is a central part of many homeschool families' music learning curriculum. Teachers and homeschool parents who have a blog, email list, or active social media channels can promote Premium membership through those channels.
Music Bloggers and YouTubers
If you have a blog, YouTube channel, or social media account where you discuss music or music education, our affiliate program can provide you with additional income. You can promote the course to your followers and earn a commission for each person who signs up through your affiliate links.
Music Enthusiasts
If you're passionate about music and have a network of like-minded individuals, you can generate income simply by recommending quality music education programs like Hoffman Academy to your audience using your affiliate link.
Affiliate Marketers
Those who specialize in affiliate marketing and are looking for new products to promote can benefit from this type of program. Online music education is a niche market with significant potential for growth.
Understanding Premium Membership
You may already be a Premium member who recognizes and understands all of the wonderful benefits of our online music learning program. If not, we're here to help! Below are some of the Premium membership benefits that you can mention in order to effectively promote Premium to your audiences.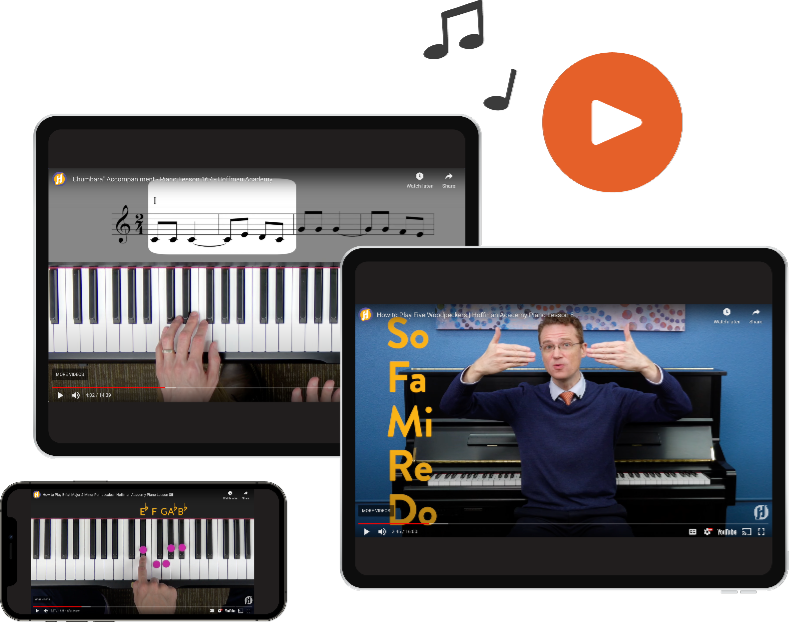 Unlock your musical potential with the revolutionary Hoffman Method for piano. Geared toward beginning through intermediate students piano students, our comprehensive and affordable music lessons guarantee a joyful experience for all ages.
Through 300+ video lessons, you'll learn songs, theory, technique, improvisation, and more. Our award-winning curriculum harnesses the latest science of learning to teach you how to read notes, play by ear, transpose, and create music. Mr. Hoffman's step-by-step approach empowers you to become a skilled musician, igniting a lifelong passion for piano.
To deepen your learning, our Hoffman Method Books accompany the video lessons. Tested for over a decade with thousands of students, these thoughtfully designed materials reinforce and expand on the concepts presented in each lesson. With music theory worksheets, interactive song pages, and answer keys, the Method Books offer a comprehensive learning experience.
As a Premium member, you gain access to our extensive learning resources, featuring sheet music for hundreds of songs, printable flashcards, and engaging games. Our interactive games provide the perfect balance of challenge and fun, improving your music theory skills and fostering rhythm and note recognition.
Stay on track with daily guided practice sessions, offering step-by-step instructions and audio play-along tracks. Our practice tools help students hone their skills while building confidence.
Join the thousands of confident musicians who have flourished with Hoffman Academy. Premium members get to experience the joy of learning piano with the necessary tools to thrive.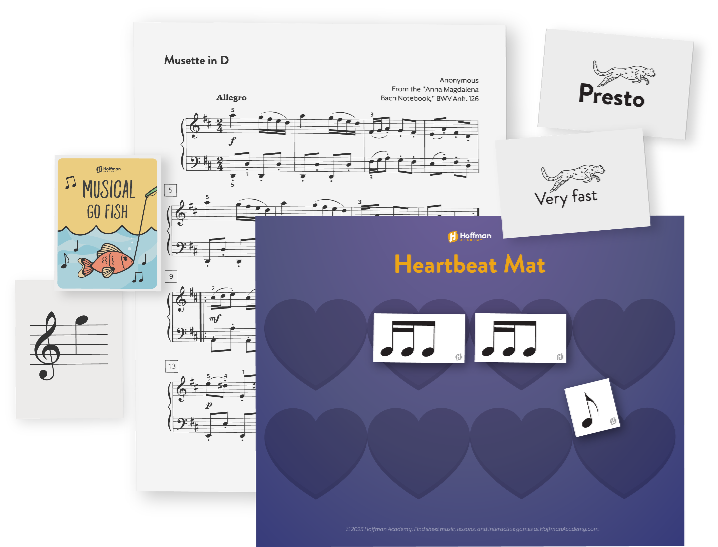 Premium Membership: TL;DR
Premium:
is available on computers and all smart devices, including phones and tablets.
is available as a monthly, yearly, or lifetime membership.
can be accessed anytime, day or night, so you can be ready to play whenever.
is accessible anywhere a computer or smart device can be used with internet access.
is frequently updated with new video lessons.
provides access to The Hoffman Academy Store, which has over $2,600 of learning materials, including sheet music and downloadable learning resources