Learn piano faster with
Premium

.
Everything you need to learn piano in one affordable subscription.
Premium
AS LOW AS $20 PER MONTH
Interactive Learning Games
300+ Video Lessons, Downloadable Sheet Music, Learning Resources, Interactive Learning Games, Practice Tools & more!
start with premium
30-DAY MONEY BACK GUARANTEE
All prices USD. Prices do not include tax or VAT.
"Amazing piano lessons that my kids — and I love! Premium is worth every penny, the practice sessions, sheet music and worksheets are very well designed and appealing to kids."
Samantha, Parent
Learn to play piano and unleash your musical potential.
Start playing songs from your very first lesson! With our groundbreaking method, you'll learn to read, understand, and create music. It's a complete education that's affordable and packed with fun for every age.
VIDEO LESSONS
300+ video lessons that teach songs, theory, improvisation, and more!
Comprehensive curriculum from beginner to advanced
Engaging and fun for all ages
Popular song tutorials included
Our award-winning lessons are the most complete piano education you can find anywhere. Fun, engaging, and grounded in learning science, our video lessons teach you how to read notes and rhythms, playing by ear, improvisation, transposition, reading lead sheets, and more! Become an empowered musician with Mr. Hoffman's step-by-step approach that makes learning piano a joyful experience at any age.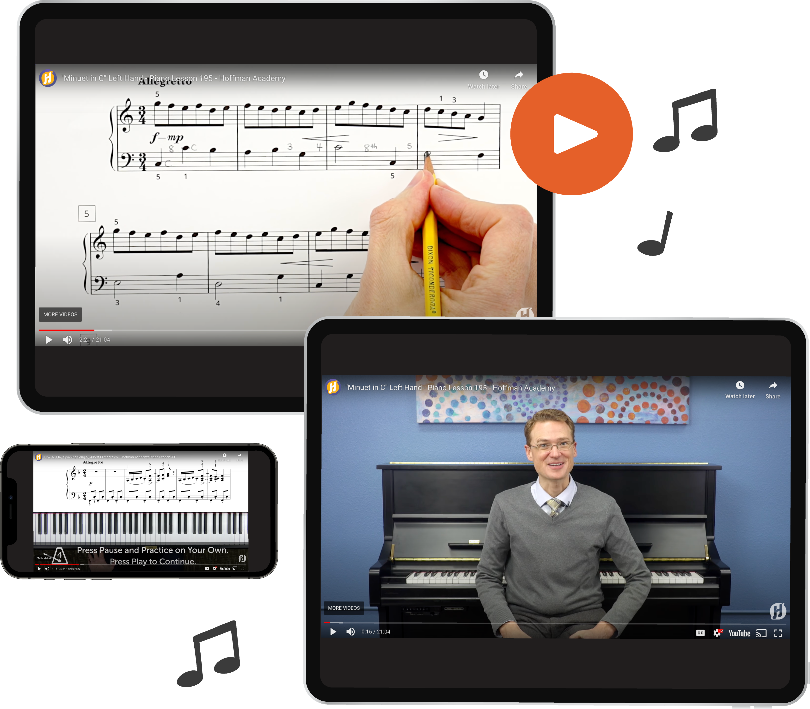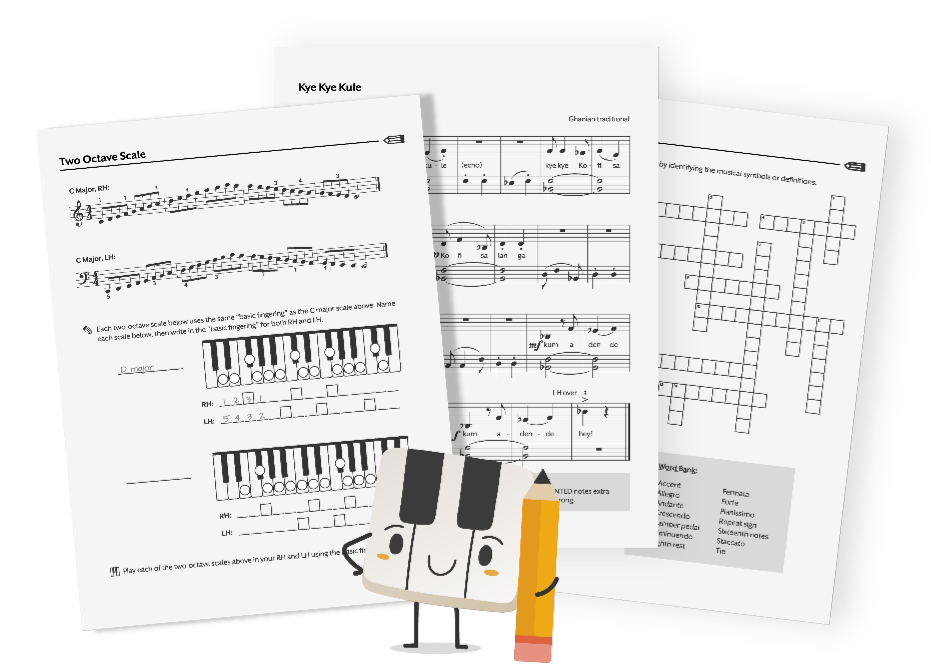 METHOD BOOKS
Print materials designed to take your learning even deeper
Interactive song pages
Music theory worksheets
Answer keys
As a companion to Mr. Hoffman's video lessons, the Hoffman Method Books reinforce, expand, and deepen the learning presented in each video lesson. Thoughtfully and beautifully designed, and tested for over a decade with thousands of students, the Method Books are an essential part of a student's learning experience. Inside, you'll find hundreds of pages of music theory worksheets and activity pages, sheet music, and tips from Mr. Hoffman.
Included with Premium MembershipIncluded with Premium
"Hoffman Academy Premium is awesome! My daughter enjoys the ability to learn piano from home. Mr. Hoffman's method is educational and entertaining. The structure is wonderful, all the materials are provided and the systematic way in which the lessons and practices are laid out make it easy and fun."
Rachel, Parent
LEARNING RESOURCES
Spark your child's passion with our vault of sheet music and games
Sheet music for hundreds of songs
Printable flashcards
Printable games
Access our extensive library of hundreds of songs and piano pieces. Use our powerful search features to find the exact skill level and genre you're looking for. You'll also get access to printable flashcards, board games, holiday music theory packets, and your own rhythm cards as seen in our lesson videos!
Included with Premium MembershipIncluded with Premium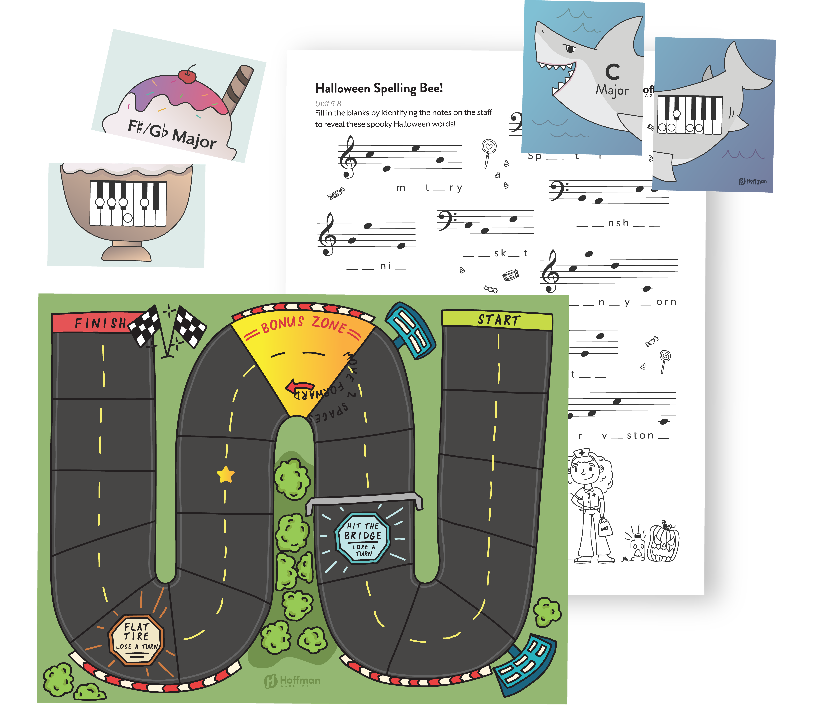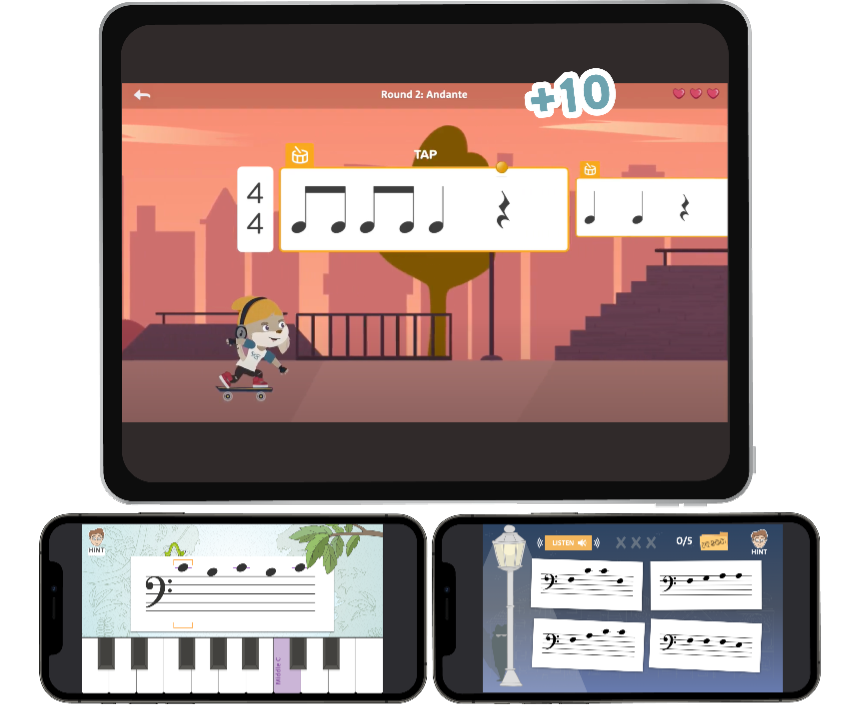 INTERACTIVE GAMES
Online piano games with the perfect amount of challenge and fun
Multi-level
Educational
Makes skill building fun
Level up your music theory skills with our fun, learning-rich online games. Strengthen your sense of rhythm, note recognition, sight reading, ear dictation, and more. Help Rae skateboard to the beat as you tap rhythms correctly. Help Iggy inch towards his lunch by playing all the right notes. Help solve a mystery by choosing which melody you hear out of four top secret options.
Included with Premium MembershipIncluded with Premium
PRACTICE TOOLS
Daily guided practice sessions to keep you on track
Step-by-step practice
Audio play along tracks
Guided review
It's hard to know how to practice, especially at the beginning. Our practice sessions give you step-by-step instructions for what to do between every single video lesson. We also have fun, professionally recorded audio tracks to play along with. Students will feel like they're playing in a real band!
Included with Premium MembershipIncluded with Premium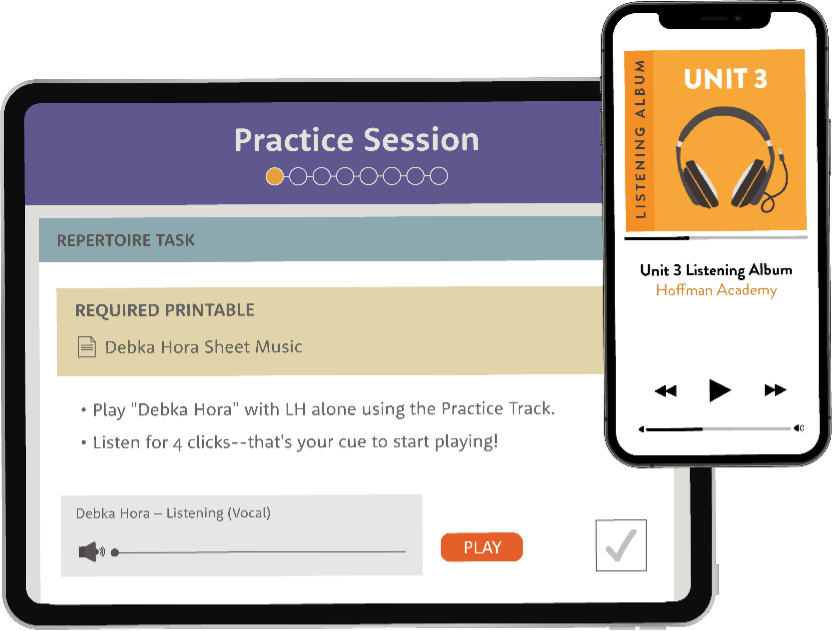 Learning to play piano is fun with Premium.
We've created thousands of confident musicians!
Flexible plans for every budget.
MONTHLY
$24/month
Pay as you go
Get Started
Additional family members $12/mo.
---
YEARLY
$20/month
Billed yearly at $239
Get Started
Additional family members $119/yr.
---
30-DAY MONEY BACK GUARANTEE
Questions about leaning piano with Premium?
We have answers.
What's the difference between free and Premium?

With a free account, you'll be able to watch all of our video piano lessons, but you won't get access to our interactive online learning games and our guided practice tools. With a Premium account, you'll unlock all our best features to accelerate your learning, including access to our huge library of sheet music and printable learning resources and games. We have over 500 items in our store at a combined value of over $2500, and it's all included with Premium! Your Premium membership also includes our professionally recorded audio play-along tracks to make practicing fun. In short, Premium offers you the best way to learn piano online. Plus, your Premium membership helps allow us to continue to offer all video content for free, supporting the mission of Hoffman Academy to make quality music education available for everyone.

If I cancel, will I get refunded?

If Hoffman Academy isn't working out for you, we'll give you a full refund within the first 30 days, no questions asked. Simply email us at support@hoffmanacademy.com.

Is there a family discount for families with more than 1 student?

We offer a discount for each additional student on your account! Check out the pricing details above.

Do you offer advanced piano lessons, or adult piano lessons?

Our 300+ video lessons can take an absolute beginner all the way to an intermediate level of playing, no matter what their age! We add new lessons weekly and plan to teach all the way to advanced levels. While our curriculum is focused on kids, we have heard from hundreds of teens and adults from around the world who are using and enjoying our lessons – particularly the later units as we begin to explore more unique and classical pieces.

How hard is it to learn piano online?

If you want to learn piano, it's never been easier! Hoffman Academy's video piano lessons guide you step-by-step through all the basics, breaking down even the most complex concepts in an easy-to-understand way. The great thing about video instruction is you can pause, rewind, or review as many times as you need to. Plus, Premium members get access to our Practice Session tool, which guides you through your practicing with specific instructions and tips for learning each new song. In our experience, anyone can successfully learn piano online, even with just 10-15 minutes of practice per day.

Is it hard to learn piano at an older age?

While certain things may be harder, other things are actually easier when learning piano at an older age! Research shows that the brain remains "plastic" (able to build new circuits) throughout your entire life. The unique fine motor skills required to play piano take time to form, which is why it's so important to be patient with yourself. Your brain CAN make new connections, it simply takes repetition (practice) and time. One area where older students can learn piano even faster than a child is in the area of music theory. As an adult, your brain has lots of practice dealing with symbols and abstract thought. This means that you will likely pick up music theory and music reading concepts much faster than a child could. Most importantly, our adult learners report that, of all their activities, setting aside time each day to learn piano is one of the most rewarding.